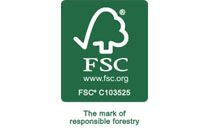 At Snyder Printer, our commitment to continuing the tradition of quality printing, as well as environmental responsibility, is ingrained in our history, and is the foundation for our future. Snyder Printer is a leader in the sustainability arena.
1). FSC® C103525 The Forest Stewardship Council® is a non-profit organization founded in 1993. They are devoted to encouraging responsible management of the world's forests through balancing environmental, economic and social considerations, with the emphasis on conservation. They have established international standards for responsible forestry. Forests can and should be renewable resources.
Your purchase of FSC-certified paper and print products contributes to conservation, responsible management and community level benefits for people and animals that are near the forests that provide your paper. FSC is not only concerned with the forests, but with the communities surrounding them.
FSC Chain-of-Custody Certification is the documentation of the flow of fiber that is made into paper from the forests, to paper manufacturer, to paper merchant and to the printer who has FSC COC Certification.
2). Energy Cooperation of New York – Green Power Electric Program
 Snyder Printer is officially "off the grid." With the purchase of 100% renewable energy, we are reducing the production of nitrogen oxide, sulfur oxide and carbon dioxide, all dangerous ingredients to the environment and people's health. We are utilizing wind power as well as biomass energy, which in this program is landfill methane fired electricity. Not only are we investing in the future of wind power, we are also helping utilize the resources stockpiled in our landfills.
3). At Snyder Printer, we print all our materials using the Staccato screening process. This greatly reduced printing dot size allows for less consumption of ink, creating less waste.
No landfill waste is created through our printing process. We recycle all chemistry, plates, ink and paper. Due to the costs associated with recycling chemistry and inks, many companies choose to dispose of these products in landfills. We do not believe that is in the best interest of the environment.
We continually strive to reduce the emissions from our printing process. We continue to lower our level of VOCs (Volatile Organic Compounds). Snyder Printer has proudly been a member of OSHA SHARP for the last ten years! This means we meet or exceed all  OSHA regulations for health and safety. We are the ONLY printer in all of New York to earn this recognition.
4). Our 908 BIO Series inks are a soy/vegetable-based ink. The "Bio" means this product is made from 100% natural raw materials. It is as environmentally friendly as you can get.
5). We have an extensive internal recycling program for all office paper, plastic bottles, grocery bags, batteries, light bulbs and other items. We also have a no paper products program in place for our cafeteria.